30% Off Every Guest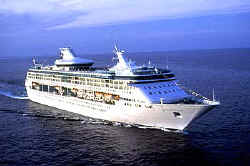 30% Off Every Guest
Take the plunge into a whole new world of discoveries just waiting to thrill you. Brave the world's longest zip line over water in our private destination, Labadee®. Buckle up for an ATV ride through the jungle in Costa Maya, Mexico. And shake up your same-old never bold routine with 30% off every guest on every ship. Come SeekSM the Royal Caribbean®.
STOP WONDERING. START WANDERING
...
About Royal Caribbean International

Royal Caribbean International is known for driving innovation at sea and has continuously redefined cruise vacationing since its launch in 1969. Each successive class of ships is an architectural marvel and pushes the envelope of what is possible on a cruise ship. Onboard, the global cruise line has debuted countless industry "firsts" – such as rock climbing, ice skating and surfing at sea – to capture the imagination of families and adventurous vacationers alike. Throughout, guests sail on exci
...
Multiple dates and itineraries available