50% Off Second Guest + Kids Sail For Less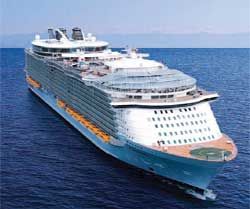 50% Off Second Guest + Kids Sail For Less
Bonus: Up to $100 Instant Savings* on Holiday Sailings
This isn't just another day out of office — it's a deck defying, status quo denying thrill-a-thon. Plunge down three stories of twisting, turning thrills on the Perfect StormSM. Zipline nine decks above the Boardwalk®. Or satisfy your curiosity with experimental delicacies at Wonderland Imaginative Cuisine.
...
About Royal Caribbean International

Royal Caribbean International is known for driving innovation at sea and has continuously redefined cruise vacationing since its launch in 1969. Each successive class of ships is an architectural marvel and pushes the envelope of what is possible on a cruise ship. Onboard, the global cruise line has debuted countless industry "firsts" – such as rock climbing, ice skating and surfing at sea – to capture the imagination of families and adventurous vacationers alike. Throughout, guests sail on exci
...
Multiple dates and itineraries available